When small private clinics perform 3500-4000 graft FUT, it is an all day event. To undertake this type of procedure there has to be a team effort, concerted approach. The experienced technicians are vital to the private doctor. It is now 8:15AM and this is what is going on.
50 year old white male in for 3500 HT by FUT with additional eyebrow
work. Pt is in perfect health and is currently NOT on oral meds for hairloss. Dr. Harris's classification of him is a Norwood 5/6 with residual vellus hairs as well as some intermediate hairs. His classification doesn't quite fit the Norwood but I believe you can get the picture.
First off… I want to try to walk you through our office and give some light to the players here.
When you walk into the office you meet friendly Veronica. She plays several roles here and has been apart of the office for 3 years.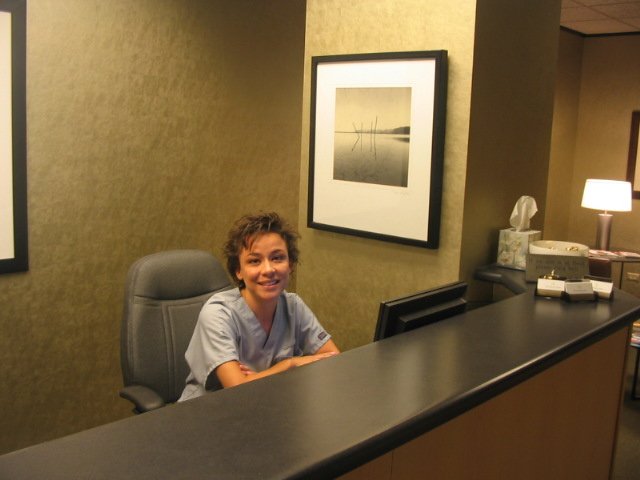 Then the waiting room.
Now this is what I see when I walk into the employee break room. My point is that we are all organized around efficiency. The boards are specific in our duties.
The patients pre-photos. He is in the chair already. I am somewhat worried that his existing hairs will be cause for concern for slowing placing/planting. We will see.