Dear forum readers,
A frequent query is about the -
Growth of beard hair in scar tissue,
Appearance of beard hair in scalp,
The patient , nickname MCH, has had multiple surgical procedures before he visited us.
In Aug 2006, among other things, we transplanted beard hair in 2 identifiable points of his worst scar.
The scar was result of flap surgery followed by numerous strip excisions.
He is a white Caucasian from N. America.
His beard hair has a thicker calibre than the scalp hair. The beard hair is also more black while the scalp is dark brown in color.
22 untrimmed beard grafts.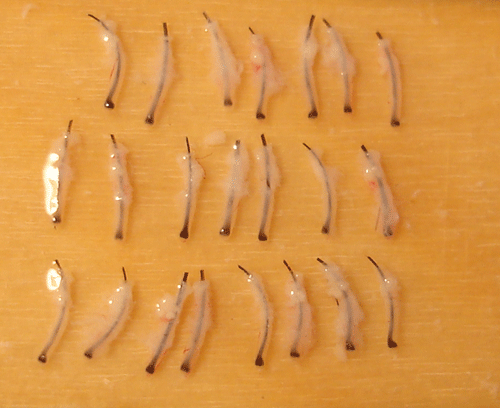 Recipient area slits


Graft placement


Donor area immediately post extraction.