'2208" is known to the forums.
He had incurred 2 strip scars from 2 previous FUT surgeries prior to seeing me.
The foregoing is a self explanatory video that culminates into the result of implanting 1050 beard hair into the 2 strip scars at 6 months.
Or copy and paste this link to you address bar: http://www.youtube.com/watch?v=uS_qqeRElQk&feature=user
to view in higher resolution, click the "view in high quality" option to the bottom right of the video screen
Some before images: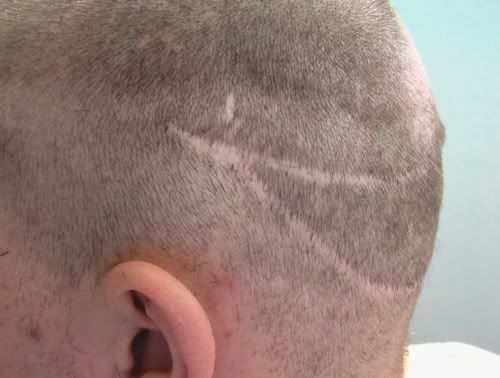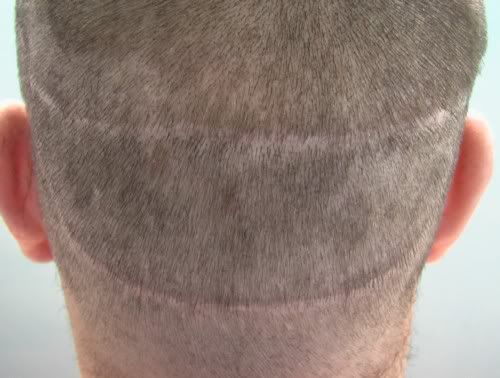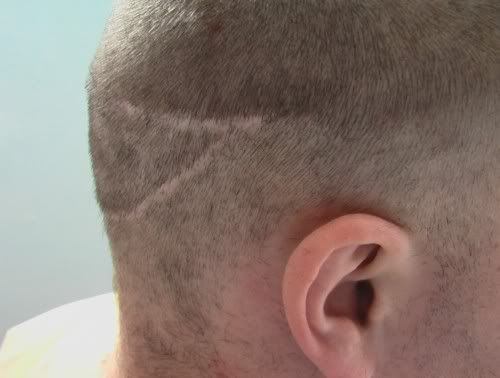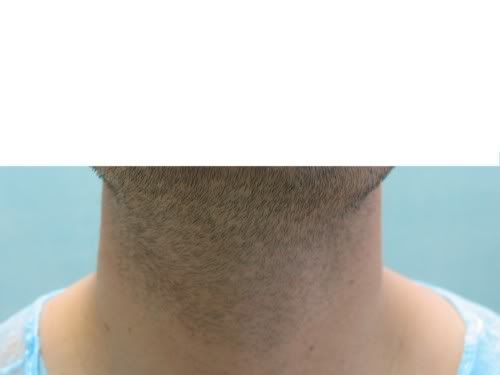 To see the result of the repair by grafting 1050 beard hair; click VIDEO
.
Background.
"2208" first introduced his case in mid 2006 here:
http://www.hairsite4.com/dc/dcboard.php?az=show_topic&forum=12&topic_id=37598&mode=full
At that time he underwent a total of about 2000 grafting of hair mostly from the chest to the two strip scars. Of this, about 105 grafts were added to the right side of his frontal scalp (see pictures).
At about the 8 month mark, it seemed that even though the BHT grafts to the frontal scalp took well and added density to the satisfaction of 2208, the yield in the scar at that time was disappointing. 2208 had the scar tattooed at that time.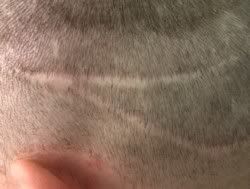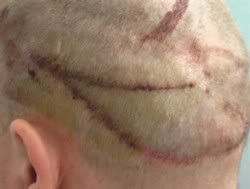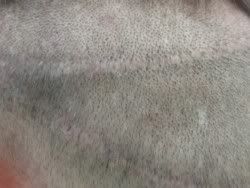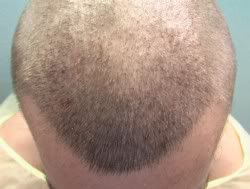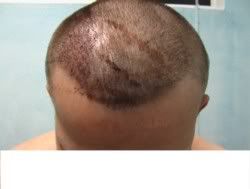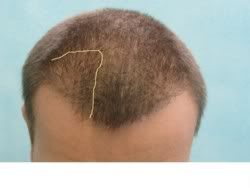 Based on the encouraging outcome observed in the grafting of beard hair to the strip scar of [link=http://www.hairsite4.com/dc/dcboard.php?az=show_topic&forum=12&topic_id=50667&mode=full ]patient SO[/link] I had 2208 return some 7 months ago to have his strip scars grafted with beard hair this time around. The result at 6 months is as depicted in the VIDEO.
It is becoming increasingly evident that beard hair carries advantages over other donor sources in the treatment of scalp scars including strip scars. The case of "FLASH" is another well documented demonstration of this
To see other examples of our patients on video, visit: http://www.youtube.com/user/DrSUmar
S. Umar, M.D., FAAD
DermHair Clinic
Redondo Beach, California
+1-310-318-1500
1-877-DERMHAIR (US residents)
info@dermhairclinic.com
WEBSITE www.dermhairclinic.com
Single Follicle Extraction & Transfer (SFET)
Using Head and Body hair