This patient sought out WHTC clinic after having a strip harvested at a non-reputable hair transplant clinic. The patient decided to have the strip performed to lower the hairline because it was raised by a facelift procedure. During the strip procedure, plug grafts were transplanted onto the hairline. These plugs are not the classic plugs that create shotgun scarring but they are rather poorly placed multi-hair follicular unit grafts. The patient noticed the poor aesthetic results from the strip procedure within just a few months. Not only was the hair growth sparse but literally served injustice to the patient's feminine appearance. After these unsightly grafts became too unbearable to disguise, the patient resorted to wearing a headband in public. The grafts were apparently too big and consisted of too many hairs to allow the hairline to appear natural. Larger grafts placed onto the hairline create unsightly and pluggy hair transplant results that can oftentimes be demoralizing to any patient. As time progressed, the patient could no longer ignore the problem and began to find the situation to be far too depressing.
Dr. Patrick Mwamba's treatment plan consisted of removing the largest of the plugs and placing approximately 1,505 follicular unit transplant grafts to add density. Adding density is not easily achievable when removal of plugs is being performed simultaneously. The repair process is significantly more complex than typical hair transplant procedure. In repair cases, predicting a patient's growth is far more difficult. Seeing the results can be complicated because removal of the bad work can require more than one session. In many cases, the skin on the scalp can form ridges around the sites of the plugs. Ridging gives the scalp a very unnatural appearance that can be very noticeable on a hairline. The unmitigated volume of the large grafts is what causes this condition to occur. In this case, the primary goal is to remove the plugs while the goal of adding density is considered secondary. The sutured areas can create some obstacle with increasing density. We advise patients of the truth; maximal density is far less essential than achieving naturalness. The amount of time that is required to repair a patient is unpredictable because there is no way to ascertain how problematic a patient's plugs will be to remove. No two patients are the same and some plugs are easier to remove than others.
Very few patients can go to their nearest hair transplant doctor for repair of the frontal hairline. There are still far too many bad hair transplant clinics out there. Medical doctors should turn patients away if they cannot help them. This ethical action alone would simply improve the patient's situation. There are many clinics that clearly have little consideration for wasting patients' time, donor resources, and hard earned-money. We tell every individual hair loss sufferer that not all reputable clinics can perform excellent hairline restoration, much less hairline repair work. Failed patients are often those who don't take the time to do their due diligence before selecting a clinic. Patients are supposed to be given the facts about what they might expect from a hair transplant procedure. Being taken advantage of is hard for patients and trusting another hair transplant physician is much more difficult on the second occasion. One procedure can cause irreversible effects and force patients to live under covering.
Below are the sixteen-week results from the procedure. As you can see, the patient's healing from the surgery is acceptable. The patient shows positive improvement and can expect more significant growth in the months to come. A smaller repair session can be performed should it be necessary to remove any remaining plugs. With time, the overall density of the hairline will increase and allow the patient to wear more balanced hairstyles.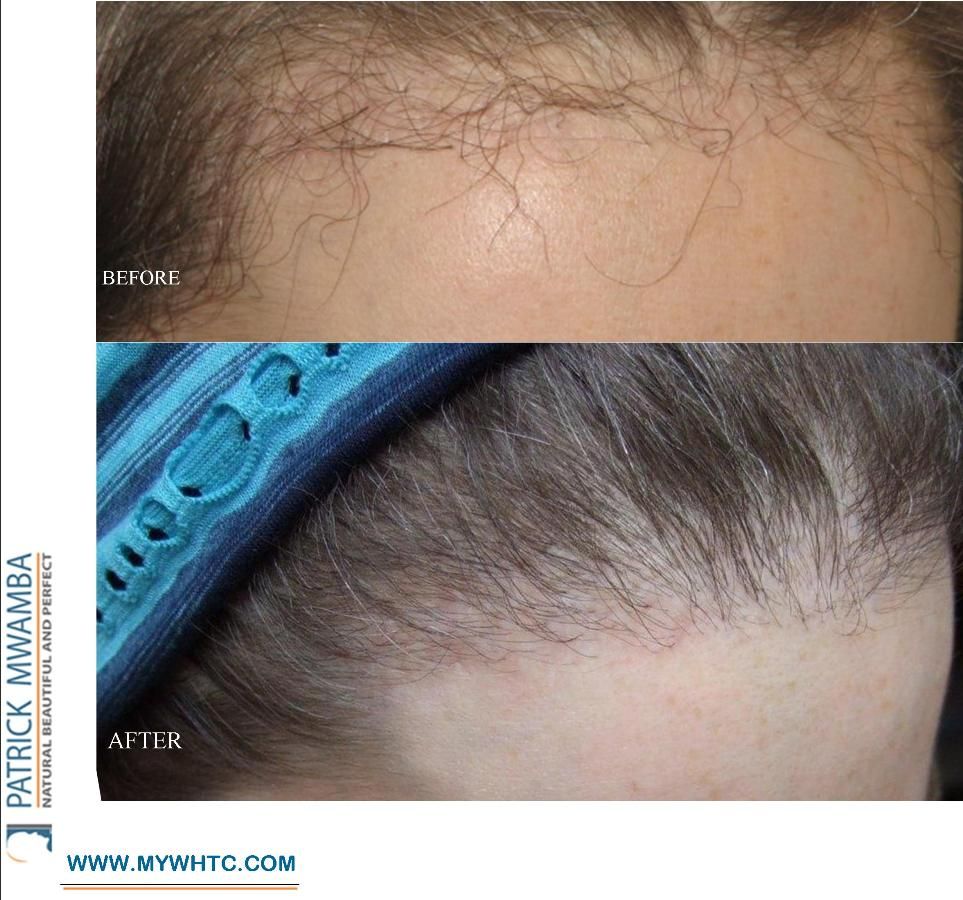 World Hair Transplant Center
Free Consultation Dates & Cities for Dr. Patrick Mwamba
London, United Kingdom - February 15, 2014 (Saturday)
Zurich, Switzerland - March 8, 2014 (Saturday)
Bologna, Italy - June 5, 2014 (Saturday)
Follow us: Facebook - Youtube - Pinterest
Email
customer.care@mywhtc.com
Telephone
+32-2-538-4404 (office)
+32 479-75-3281 (mobile)
+44-203-318-6228 (UK)
770-663-1290 (US office)
www.mywhtc.com



My opinions are based on my beliefs and are my own.