Patient CMO is a Norwood Class 7 with light brown, wavy, medium fine hair and fair skin with a donor density of 2.6. CMO had a slightly tight scalp and a broad forehead. Results after a single hair transplant session of 1,970 follicular unit grafts.
Before / After:
Before
After
Detail of Hairline
Results after one session showing how a properly positioned hairline can bring a person's facial proportions into balance.
Before Hair Transplant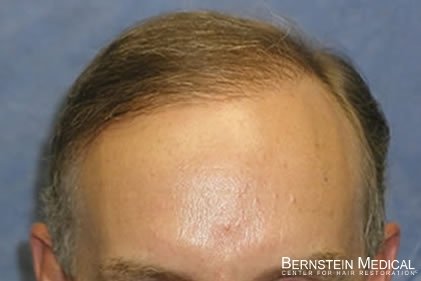 After 2nd Hair Transplant Session
Top View
In the first session the grafts were placed symmetrically. Since the patient has now decided to comb his hair from left to right, a second session will be designed with left-weighting of grafts to enhance this grooming pattern.
Before Hair Transplant - Top View
After 3rd Hair Transplant Session - Top View