As I have stated before I recently had my third procedure with Dr. Umar in January of 2009.
Dr. Umar placed 500 grafts in the hairline area and frontal area because since my first 2 procedures my hairline had worsened.
I just recently obtained photos of my hair line area before my surgery. When I got these photos just 2 days ago this was the first time I had seen my hairline area since January of this year (seen it the way it was before surgery)
Now that I have the before photos I am very excited because I do see that I indeed got a very good result from my third procedure with Dr. Umar just as I did with the previous surgeries.
Dr. Umar also placed 3000 beard hairs in my top center and crown area to fill it in even more than he did in my first 2 surgeries with him.
HAIRLINE BEFORE THIRD SURGERY:
AFTER PHOTOS AT 5 MONTHS:
2 days after surgery:
Results of crown area after the first two surgeries: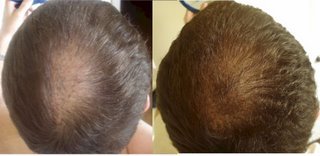 I will post more photos soon, and also I will post photos of my beard area which shows the healing that took place after 3000 grafts were teken from that area. I will also post some crown and top shots since the third surgery.