Hello,
First would like to thank Dr. Mehmet Demircioglu at the Diamond Hair Clinic in Istanbul and his team for the fantastic job they did on my hair with the sapphire FUE technique.
(Little background)
I live in USA and went through two hair transplant sessions but got nowhere with it. I always used hair fiber products to make my hair look as if I have hair and kept the top of my hair very long to cover the bald areas. I just could not do it anymore. So I considered going to Turkey since other acquaintance of mine went and had hair transplant in Turkey at the Diamond Hair Clinic and spoke highly of Dr.Mehmet Demircioglu.
I contacted Diamond Hair Clinic and send them a msg via Whatsapp phone app and requested consultation. They got back to me within an hour and requested 4 side pictures (up, back and two sides). I sent them the pictures and I got a reply back indicating that I was a good qualified for FUE hair transplant and will get around 3000-4000 grafts. It was just great news for me since in USA the doctors would only offer me 700-1500 grafts.
I flew to Istanbul and the next day, Diamond Clinic sent me a VIP car to the front of the hotel 7:30am and took me to the clinic around 8am-830am. I went there and they started interviewing me, explaining the processes and doing the hair measurements (not sure about the term) and mentioned that they can do 5000 FUE grafts for me and will lower my hairline by half an inch. I was extremely excited that they could do so much for me.
The process started. Four people worked on me for the next 15 hours, two at the time. It wasn't painful at all, except the anesthesia injection tiny pinch to numb my scalp. The hair transplant took 15 hours vs my USA hair transplant, which were usually 4-6 hours with one person working on me. After the process was finished, I looked into the mirror and my scalp was full of new implants, and hairline was lowered by half an inch.
After the hair transplant surgery, the VIP car provided by Diamond clinic took me to my hotel. I was contacted the next morning for follow ups and pictures of 4 sides and was requested to send pictures every day and to go to the clinic for the first wash on the second day and etc.
It has been over 13 days and Dr.Mehmet Demircioglu follows up with me on daily basis and assessing the growth and health of my scalp and hair. I just can't thank him enough for being there for me and giving me so much of his time. BIG THANK YOU!!!
My hair is still looking solid, the transplant even look like they are growing. I understand the shedding will happen as the doctor indicated. Please see the pictures attached.
I have recommend him to my family and friends in USA and in Europe. Feel free to contact me if you have any question or want to see me on whatsapp video call.
Thanks!!!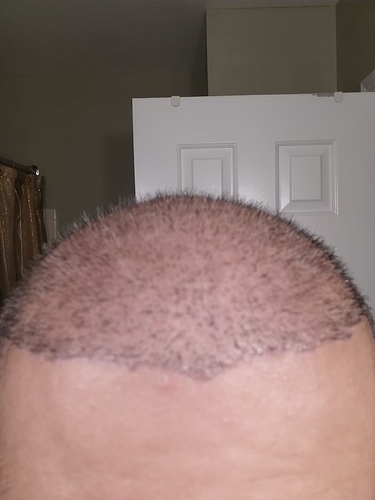 note: as per my request, I wanted my hair line not to be circular but look more natural with lines. This picture is taken on the 13th day.