Hi all
on last november I had a FUE ht done with dr christian bisanga
9 months later I am very disappointed
fact is that now I have to do another session to cover holes and gaps he left me in first place…and I have paid a lot of money for my first ht with him, almost 10.000 euro for a partial result…when he assured me I could be very happy and this result will stand alone…
I have emailed the clinic and the doctor many times but THEY JUST DON'T CARE,
they didn't take me seriously and instead offering me a consultation or some money back they had un with me saying always that I have to wait 'til 12 months and that in the meantime I could cover the gaps keeping my hair longer… lol…this is not what we have agreed…and they have offered me a special discount for a second operation (when I was only 6 months post-op!!!)…could you believe it? they wanted to sell me another procedure with them with a small discount when I am bloody angry for this poor result,crazy…now they are disappared
how do they call this? professionalism? bah
then, just immed. after my op, I was followed by their advisor, Kiffa, almost weekly, but then he disappeared from morning to evening without any notice from the clinic…look how they are serious…this speaks alone…now the result is that I am not happy and none seems to care after me…
If someone is interested to go to dr Bisanga, I would suggest to consider other doctors… they are not serious so my suggestion is: don't go to them
I know also many other unhappy patients that had an ht done with him, especially italians and spanish…if you want I can provide links pics etc
this is a picture of my post op where you can see the bald area just behind the transplanted zone.
as you can see Bisanga "forgot" to put same grafts.
and this is a picture taken at 6 month post op with my cell phone. bad quality but the gap between the 2 areas is visible!
and this is today…9 months later…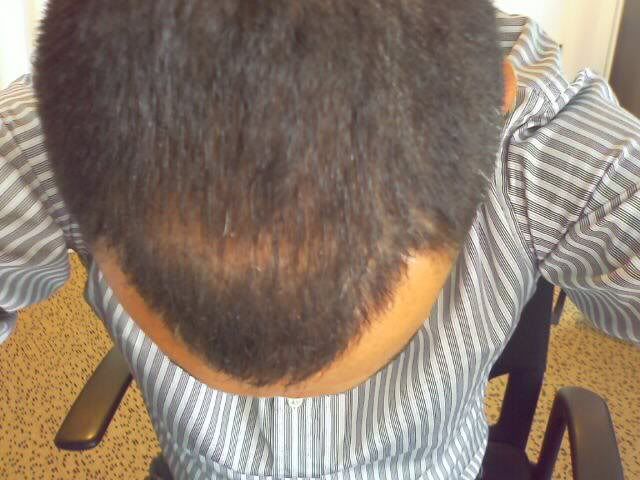 what do u think? I am very disappointed