FREE in-person consultation with Hasson & Wong. Ft Lauderdale Dec 15-16, 2021.
Hasson and Wong patient advisor James will be making his way back to Ft. Lauderdale Florida next month on December 15 and 16.
To meet him and see if you are a good candidate for a hair restoration procedure at our clinic, reserve your spot here: Hair Transplant City Consultation You can also call 1-800-859-2266 Toll-Free or email us at info@hassonandwong.com. You can also learn more about James, the process and his history with Hasson and Wong here: Hair Transplant Toronto | Toronto Hair Transplant Surgeon
During your consultation, James will discuss topics related to your existing hair loss, your hair restoration goals, the cost of your hair transplant and if you're a good candidate for a procedure at our clinic. He'll also discuss the options offered at Hasson & Wong as it pertains to whether the FUE method of harvest or the FUT method may be best suited in your case.
At the end of your consultation, we should be able to determine your candidacy and whether your hair restoration goals can be achieved.
We realize you have options when it comes to selecting a hair transplant clinic in Florida. But just because someone is located in your backyard, doesn't mean they're always the best choice. Find out why people from all over the world, continue to choose Hasson & Wong for a world class hair restoration.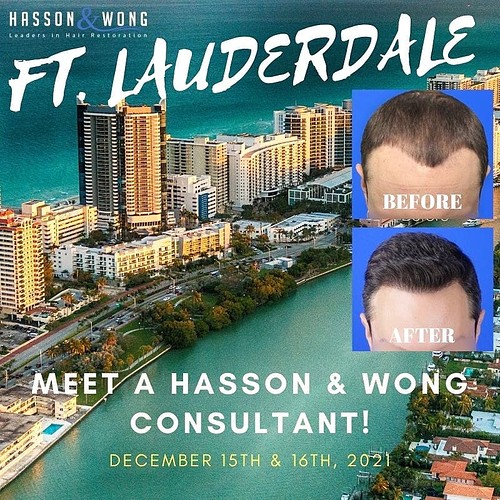 If you are unable to attend, you can always schedule an online consultation by phone or video. Follow contact info below.