Dear forum readers,
The long time readers may be aware of forum poster hairwar's case and the repair procedure carried out at our clinic.
He recently visited us and was gracious in offering a photoupdate oppurtunity.
For those that wish to read up on his pre repair situation, the relevant details, repair strategy and pictures are available at
http://www.hairsite4.com/dc/dcboard.php?az=show_topic&forum=12&topic_id=43115&mode=full
Pictures below are copied from the above thread.
Following is a picture of his scalp donor area.
The first issue in front of the doctor and the patient is over the choice of the procedure. Should the surgery be another strip or another FUE or a combination of both. Hairwar does not have much robust body hair.
Following are some pictures of the donor area with the hair trimmed down to 4 mm. The picture is taken in flourescent, soft lighting and no flashes.
The next picture is taken with using flash + the same flourescent lighting.

Hairwar wishes the recipient area to be addressed in the following order of priorities.
The top and the hairline area needs to be thickened.
The temple points need to be constructed.
If any grafts are left, they should be placed in the crown area.
Temple point reconstruction will be very helpful to give a more balanced look in hairwar's case.

Due to Hairwar's previous bad experience with fue, he opted for a strip FUHT.
In the strip FUHT, we aimed to excise some strip scars while still managing to get grafts to perform the repair procedure in the recipient area.
A total of 3080 grafts were extracted and transplanted.
The grafts were used to recreate the temple areas and to fill up the front, the hairline and the top areas. No grafts were transplanted into the crown area.
Following are some of the pictures of Hairwar's recipient area.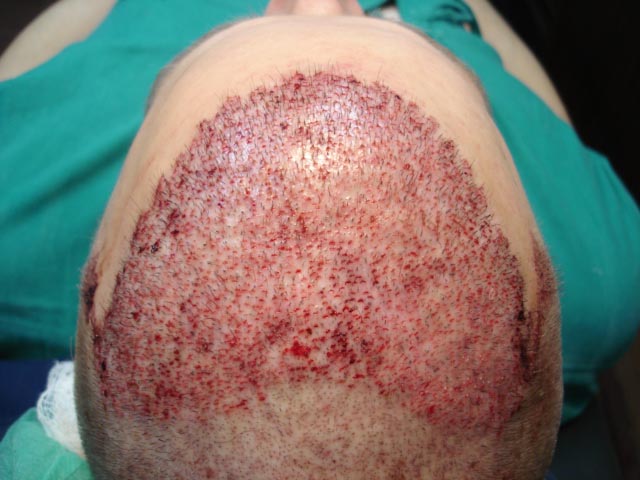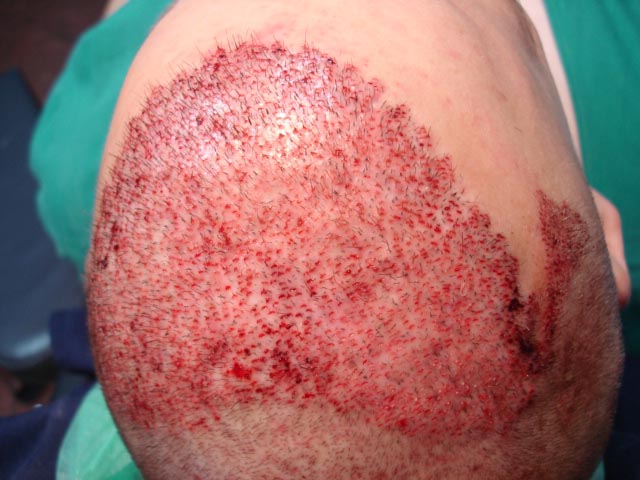 Regards,
Dr. A