FUE Sapphire 7000 grafts (6000 form the head donor area and 1000 from the beard donor area)
I had the Sapphire FUE hair transplant procedure at Diamond Hair Clinic with Dr. Mehmet Demircioglu in late August 2019. I am very happy I went with Dr. Demircioglu. Everything from airport pick up, hotel, consultation, and the procedure was great.
Airport pick and driver: Sky (the driver's name) was a nice guy. He always made sure I was comfortable. He even took the time to take me to get some food for me after the operation (I left the hospital past midnight).
Hotel: The hotel is nice and located in a touristy area. Breakfast was great. However, they don't let you sit in the restaurant area after the operation if you don't have a cap to cover your head (understandable). they have a separate room for us. It is supposed to be 5 stars hotel, but it's more like a 4 star when compared to US standards. It is like staying at a Hilton or a Marriott (still pretty good).
Procedure: I had 7000 grafts (6000 form the head donor area and 1000 from the beard donor area), which is a lot. It is almost unheard of to have that many done in one sitting. It went very well for the most part but it was a very long operation (Hence 7000 grafts). I was in the hospital for almost 15 hours so the anesthesia kept waring off towards the end. I was actually surprised how painless the whole operation was. With that being said, you could never be prepared enough for the anesthesia shots (it was a bit unpleasant) and I have no issues with needles.
Post-operation: 2 days after the operation I had my first wash. Dr. Demircioglu gave me the instruction on how to wash my head for the first 10 days (first 10 washes) and the process of removing the scabs. He was in touch with me every single day since I got back home (NYC) to make sure that there are were no issues or any post-operation complications.
The reasons I chose Dr. Mehmet Demircioglu and the Diamond Hair clinic in Istanbul:
The Dr. Demircioglu will open the microchannels (most import part of the operation) himself. Most of the clinics I have researched rely on technicians to do this part (Some doctors will charge 1000 euros to have them do it).
The number of the grafts: the initial plan was to do only 6000 grafts. When I arrived to the hospital and after inspecting my beard donor area, Dr. Demircioglu decided to implant 1000 grafts more.
Dr. Demircioglu only sees one patient a day. All of his attention is focused on one patient. Unlike other clinics (what I call factories) where they have 5-10 patients serviced at the same time.
Dr. Demircioglu uses the Sapphire FUE technique which allows for denser results and shorter healing time.
When I was dealing with the assistant Mahmud, I told him that other clinics were cheaper but he didn't try lower his price or give me a discount. (I felt that they are confident with their service and the price is fair)
Additional things to know:
Dr. Mehmet Demircioglu speaks English fluently. You can communicate with him directly and you don't have to rely on a translator. This is very important. This was a big procedure for me and I know it is going to be a long process. I am glad I was able to voice my concerns and ask questions to Dr. Demircioglu directly whether it was during the consultation, during the long operation, or post-operation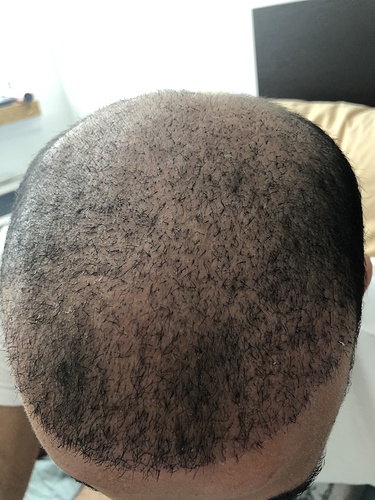 instructions and follow-ups.
Dr. Demircioglu reached out to me every day in the first 10 days after the operation to check on me and make sure there are no infections or complications. He gave his direct phone number so I can contact him at any time for any questions and concerns. (He is not just going to take your money and forget all about you).
Finally:
Dr. Mehmet Demircioglu is a kind and honest man who is very proud of what he does. He cares more about providing a great service with excellent results than anything else. I consider myself lucky for making the right choice and going with Dr. Demircioglu and the Diamond Hair Clinic.