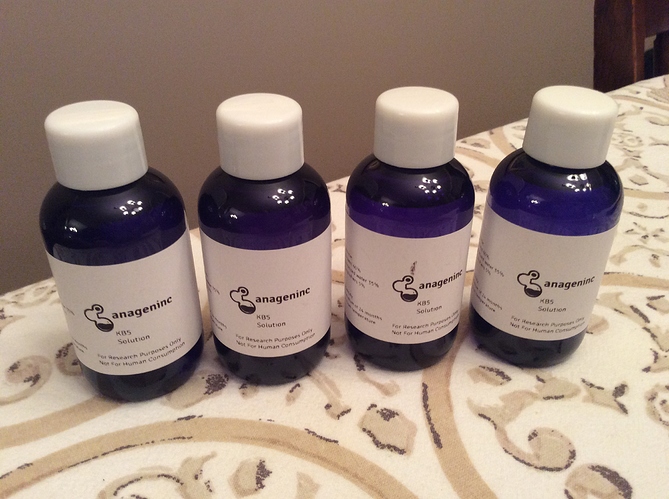 Hey everyone.
I have 4 brand new unopened 50ML bottles of K&B Solution. This is designed to carry RU58841. I am taking a break from RU58841 due to upcoming travel.
I paid $26 USD for EACH bottle but would be wiling to sell for half price, 4 bottles for $52 USD (plus shipping). I am in Toronto, Canada but will be in the US and can ship from the US next week or the week after. We can arrange payment via PayPal. Information is below.
Moderators,
If this is in the wrong forum, please let me know which forum I can post it in. I am just trying to help a fellow hairloss sufferer out and recoup some of my costs while I am taking a break.
Thanks!
K&B Solution 50ML
This vehicle is designed to carry RU58841
Product Information:
Content: 50 ML K&B Solution (Slightly to ensure 50 ML minimum)
Bottle: Transparent PET bottle( No Aluminum)
Vehicle only, Does not include RU58841
Stability &Storage information: www.anageninc.com/faq
ingredients:
27% Demineralized water,
63% Ethanol (96%),
5% K&B emulsifiers
THIS PRODUCT IS INTENDED AS A RESEARCH CHEMICAL ONLY. This designation allows the use of research chemicals strictly for in vitro testing and laboratory experimentation only. PLEASE FAMILIARIZE YOURSELF WITH OUR TERMS & CONDITIONSPRIOR TO ORDERING.
PLEASE FAMILIARIZE YOURSELF WITH OUR TERMS AND CONDITIONS PRIOR TO ORDERING. ANAGEN INC WILL IMMEDIATELY DENY ANY ORDER THAT WE FEEL WILL BE USED OUTSIDE OF THE SCOPE OF IT'S INTENDED PURPOSE.