Who would have thought !!!
According to an article authored by Silvia Diviccaro; Roberto Cosimo Melcangi; Silvia Giatti - University of Milan, Italy, researcher Motofei and colleagues reported that finasteride sexual side effects can manifest differently between left-handed and right-handed users.
The International Index of Erectile Function (IIEF-5) was used as a diagnostic tool with score raning from 5 to 25; the lower the score, the more severe the condition. A score of 25 means that the test subject experiences no erectile dysfunction at all.
The researchers found that left-handed users of finasteride seemed to have experienced less severe sexual side effects than right-handed users and they offered an explanation below.
Excerpt: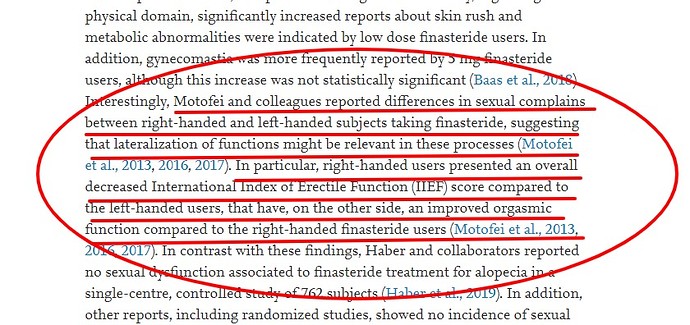 Credit:
============================================
Hasson & Wong sponsored post.
Proudly Canadian and famous worldwide. A Top Ranked #1 hair clinic of ALL TIME in Canada and Top 3 worldwide according to HairSite patient result statistics.
FREE no obligation consultation
email - info@hassonandwong.com
Tel US/Canada 1–800–859–2266 or 604–739–4247 (Vancouver, Canada)