This patient only received 1500 grafts for his procedure. He had undergone a previous hair transplant at another clinic. However with the results he received, there was still much room for improvement. The images of the patient prior to his surgery with Dr. Umar show significant sparseness on his scalp. Furthermore, the positioning of the hairline and temples were not particularly ideal. And at this point, the patient's appearance could certainly benefit from advancement.
In many cases, a large number of grafts are needed to achieve a desired vision. However, with this patient, the strategic application of only 1500 grafts was sufficient.
Dr. Umar compiled a donor pool consisting of follicles from the scalp as well as grafts from the nape. The finer quality of the nape hairs makes them quite useful for achieving the softness and natural transitions in the hairline and temples.
Since hair from the nape often exhibits unique angles and characteristics, compared to follicles on the scalp, extractions require a specialized approach.
Nape hairs face potential damage with regular FUE punches. But with Dr. Umar's uGraft instruments, these grafts can be safely extracted due to additional mechanisms that help separate the follicles from surrounding tissue.
Also, since many men prefer wearing their hair short in the back, uGraft helps ensure visually pristine donor healing results in this area. Therefore, bumps or red spots would not be a cosmetic concern that patients would need to worry about hiding.
The main challenge of this case involved inserting the newly harvested follicles in accordance with the growth patterns of the patient's existing hairs. Dr. Umar was able to succeed at adding new grafts while advancing the hairline and temples to help create a more youthful looking appearance for the patient.
A strategic approach helped to optimize the application of the 1500 grafts.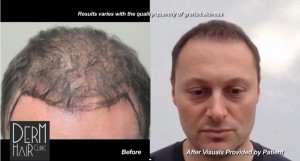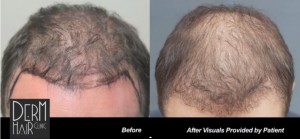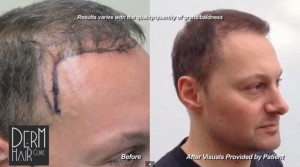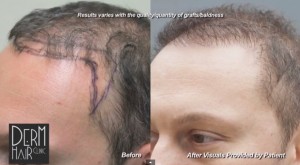 To watch this patient's video, click here.