Traction alopecia, also known as tension hair loss, is a mechanical form of hair loss which predominantly affects women of African descent. This is often due to the prevalence of harsh grooming practices such as tight ponytails and braids for curly, afro-textured hair.
The patient below noticed the edges of her hairline and temple were beginning to recede after years of wearing tight ponytails. She consulted Dr. Sanusi Umar in Los Angeles about her options. Dr. Umar recommended a linear-scar free FUE hair transplant to reverse her receding edges.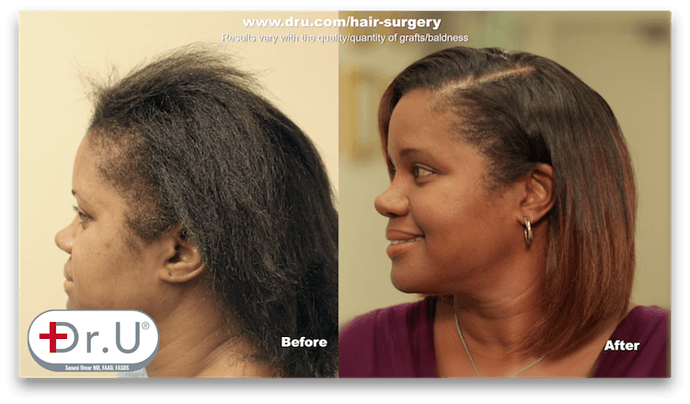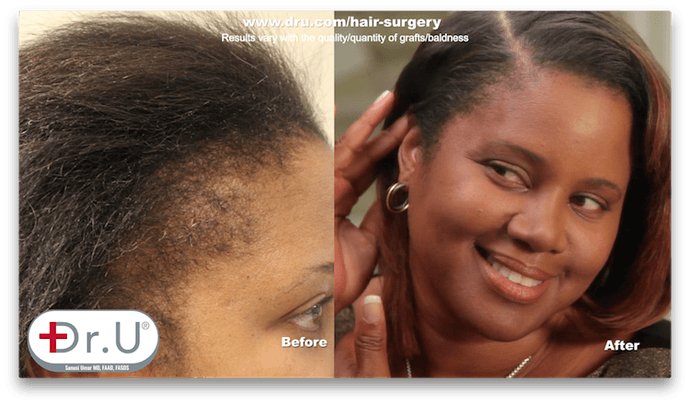 In order to safely extract the tightly curled, afro-textured hair, Dr. U used the Dr.UGraft System together with the manual Dr.UPunch Curl™. The sharp, curved tip of the punch allowed the issue of thicker skin tissue and stronger attachments to be minimized. The manual plunging motion further enables safe excision around the curled hair follicle. A comparative study found this tool to be 100% more effective than conventional FUE punches in a study of 18 patient cases with afro-textured hair.
The patient is pleased with her results. You can see the full results in the video below.