Dr. Keser presents one of his first Italian patients, receiving an hair transplant on the month of February, 2100 grafts employing the FUE technique.
He gave us his permission to post a translation of his case on this forum, and his photos, after he posted his case on an Italian forum.
"Hello everyone,
Like many of you know in April 2006 I traveled to study that of Toronto, who (at the time) was what we considered one of the best surgeons for hairline.
Intentionally omit everything that I have spent these years trying to get a touch-up for what I had been repeatedly promised by the same surgeon, a well known Canadian. Promise of a sailor.
So I am convinced, after 3 years of dissatisfaction with the first intervention (http://bellicapelli.forumfree.it/?t=7652374) to go to Ankara and see, in person, how it works Dr. Keser, of which many speak much.
Not disguise a minimum of emotion in being one of first of the Forum (along with the mythical Jamo3) who goes to Dr. Keser. It's a feeling that oscillates between fear of what you do not know, because have not yet been able to see other live work by the doctor, and trust, as the doctor himself and his staff are aware of my history, and that I will not hesitate to express here all my comments. In that regard, they are proving very sympathetic and glad that their patients disclose their thoughts.
Good sign.
For my case had been budgeted for 2500 UFs about locations on the central-frontal zone, which means the desert left by Alvi Armani's holes, and a portion of them intended for "handling" of my front line that was straight, drawn with a ruler.
First, the doctor studied my head and proceed to design the hairline, which is discussed with me through a very good translation made available by the clinic and proceeded to cut the hair.
In the end, regarding the number prior to UF, we have extracted and implanted 1900 on the front and the first mid + another 200 to cover the scar left by Alvi Armani's strip.
I want to emphasize this: the doctor does all the phases. And when I say all I say ALL.
He designs, he cuts his hair, he extracts the UFs, he implants, he snaps the photos, he will bandage and washes the head.
Does everything himself.
All beauty lasted three days. We know that rush is not the virtue of the strong …
I would have a thousand things to tell, but I prefer not to bore you with long stories and go to the pictures (so that's what we really care) and, if you have any questions do not hesitate to respond.
For photos of the pre-op I refer you to the last post on my old reports, which the link above. For other pre-operative will have to ask.
Now I prefer to leave room for the facts (the hair), rather than the crap, why to take stock must, inevitably, to wait at least 5-6 months. At least."
Pre-surgery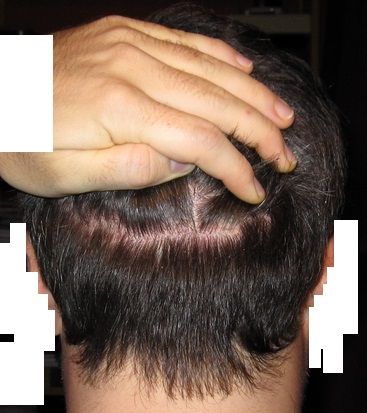 Post-surgey
2 days after
5 days after