This Norwood 6 patient came to our clinic in the summer of 2007 and received an in-person consultation. The donor density of this patient measured below average at 150 hairs per square centimeter with 180 being about the average. Dr. Cole's treatment plan was to transfer 1200 - 1300 CIT grafts from this patient's donor area to form the frontal scalp and hair line. The patient recently came by the office for us to recheck his hair densities on the front and crown after 8 months. The donor hair is very plentiful as you can see that the patient wears a very short hair style.
Carefully analyze the overall appearance of the donor area when observing these photos, particularly in the mastoid photos located at the bottom. Do you notice any difference in the photos from the left side and right side? Please choose one of the following answers listed below:
A. There is no difference between photos A and B. No surgery was performed.
B. The donor was harvested with a variety of instruments.
C. The donor density is lower in photos C & D only
D. The area was only tested with 50 CIT grafts to determine the patient's healing ability and reveals that the patient heals extremely well.
E. The hair lays naturally sparse in all photos and overall density is the same.
Donor photos: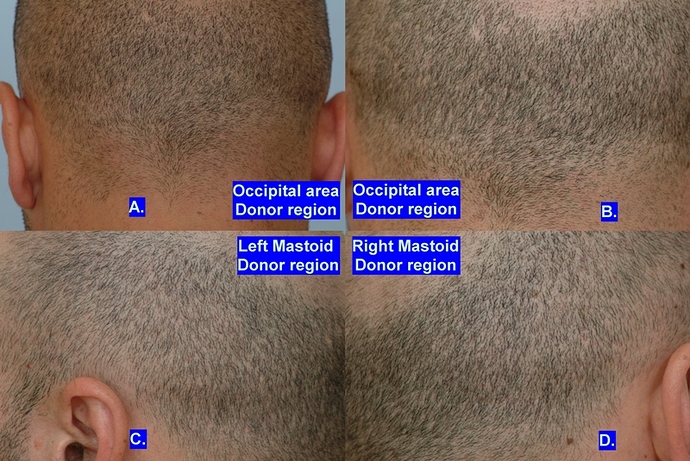 Toll Free: 800 368 4247
Tel: 1 678 5661011