ASHWAGANDHA
A Natural Remedy to Treat Hairloss and also Immunity Booster against COVID 19
Ashwagandha (Indian Ginseng) is nature's gift to mankind.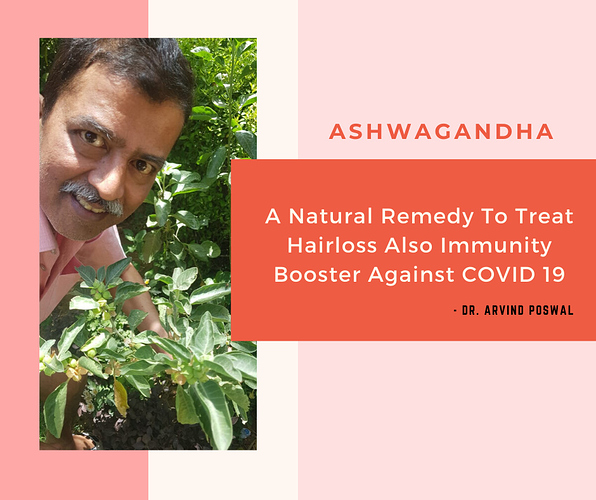 For centuries, ayurvedic medicine has used various parts (roots, leaves, berries) of this shrub to increase energy, vitality, and overall health.
Ashwagandha literally means 'horse's smell' in Sanskrit (Ashwa – horse, and gandha means smell). But the term refers not just to the smell, but also to horse-like attributes of physical strength and endurance.
Its an adaptogenic plant and is an immune booster found to prevent virus replication now finding increased mention in the treatment and prevention of COVID 19 (apart from promoting healthy hair and delaying greying of hair).
This herb is so potent and has so many benefits that Ayurveda considers it to be a Rasayana therapy on its own.
It improves hair growth, reduces grey hair, gets rid of fine lines, and keeps your skin looking young and healthy.
Ashwagandha, when used in its pure form is an excellent herb for hair. Its antioxidant and hormone balancing effects reduce hair fall and promote healthy and shiny hair.
When applied to the scalp it increases the scalp circulation and improves hair growth, and it also helps with dandruff and greasy hair.
Ashwagandha is also said to preserve our natural hair color. The powerful antioxidants in ashwagandha fight the free radicals that are usually responsible for hair greying. In addition, it stimulates the production of melanin, the pigment responsible for hair color.
Research has been done on the plant and found it to have many of these healing properties.
It has been found to:
● Reduces blood sugar levels - Adding ashwagandha was found to increase insulin secretion and insulin sensitivity and thus lower blood sugar levels in people with and without diabetes.
● Anti-carcinogenic - Many experiments have shown that ashwagandha is a potent medicine against cancer. It's been found to reduce the growth of new cancer cells and induce death in pre-existing cancer cells.
● Improves heart health - It has been found to significantly reduce the levels of cholesterol and triglycerides in the bloodstream.
● Boosts immunity
● Reduces cortisol levels and stress - By reducing cortisol, it's been found to be significantly helpful for those suffering from chronic stress, anxiety, and even depression.
● Improves male fertility.
● Reduces inflammation.
Dr. A's Clinic always encourages people to use natural ways to treat hairloss and boost immunity. Stay home, stay safe, and be in touch through free online consultation.