Here are updated photos of an extremely wide scar at 3 months, 1 year, and the latest results from 9 months. The scar is very wide (5 to 6cm) and tattooed which add another problem for the patient. No matter how the scar is treated, removal of the tissue may be more effective in this case if laxity permits. We harvested several regions of the body and transplanted the donor scar with a low density.
One year later, we noted that yields appeared good. The areas of higher density produced the best result coverage. It is important to note that our highest density did not exceed 36 per sq. cm. All areas appeared to have a good yield, but coverage was best with about 20 to 30 per sq cm.
The transplanted areas grew well, but yield with the leg hair and chest hair was higher, perhaps because we placed these areas with a more consistent and higher density in regard to body hair in scar tissue.
The tattoo appeared to fade slightly with grafting. Skin tone took on a more pinkish color with the addition of normal dermal tissue. One can think of this as a delusional effect on scar tissue. One problem is that the body hair is finer and thus produces less coverage. It is proposed that far greater quantity of body hair will be required to produce coverage than scalp hair. It is difficult to determine how much additional body hair might be required, but one might easily estimate that 3 or 4 times as many body hair grafts will be required to produce the same effect as lesser quantity scalp hair grafts. Anagen hairs may provide a better end result for coverage into the scar.
The patient is much happier that the scar can be concealed with hardly any effort. The coverage with body hair is thinner and requires much more time to grow.
Free virtual consult with Dr. Cole - CLICK HERE!
Pre and immediate post-op

3 months result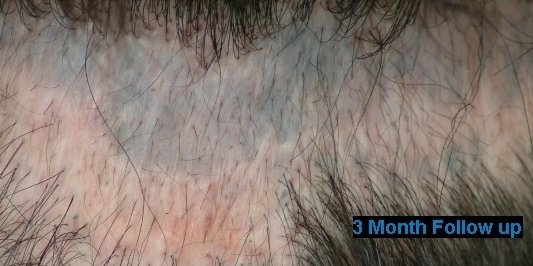 9 month progress from 2nd pass

Natural hair style of patient (Before & After)