I've just informed a little bit the user @James Bond, who is considering a HT in the near future …
http://www.hairsite.com/hair-loss/forum_entry-id-68743-page-0-category-1-order-last_answer.html
Anyway, somebody may find some parts of my post interesting and/or has something to add to this topic (hairlines) in general …
---
» I want to conserve as much donor area as possible
» while still obtaining excellent and natural looking results.
@James Bond,
just some hints for you, which you eventually should consider …
Recently, you wrote:
"My current opinion is the best HT available is to go to one of the top hairline artists to get a world-class FUE hairline and fill in the rest of the head with the donor stingy HST method."
Regarding the "hairline" itself, here are some studies you my find interesting regarding …
HAIRLINE DESIGN
Considerations in Establishing a Natural Hairline
(By Paul Rose, MD)
ABSTRACT: The rebuilding of the frontal hairline is a crucial aspect in providing patients
with a natural-appearing hair replacement result. Often transplant surgeons attempt to construct a frontal hairline that is a dense wall. This has an unnatural appearance. The author examines the frontal hairline of individuals who have retained a significant portion of the hair in this area and relates this to a system of planning and constructing a more natural hairline.
All in all, there are questions like …
HOW a "perfect natural hairline" actually should look like?

HOW can I get/create the needed finer, feathered (scalp-)hairs for a REAL natural appearance?
---
"Cloned" hairlines: the use of bisected hair follicles to create finer hairlines.
Swinehart JM.
Department of Dermatology, University of Colorado Health Science Center, Denver, Colorado, USA.
Abstract
BACKGROUND: One living hair follicle, if horizontally bisected in the proper location, can be induced to subsequently produce two growing follicles. Their unpredictable growth rate, often less than 50%, has limited their use on a large scale. Their resultant finer caliber, however, can be used to benefit patients undergoing hair replacement surgery.
OBJECTIVE: To determine whether horizontally bisected hairs can be employed to create finer, feathered anterior and temporal hairlines.
METHODS: Twenty autologous terminal donor hairs were bisected as closely as possible to the "bulge" area immediately inferior to the zone of attachment of the arrector pili muscle. The 20 hair "shafts" were implanted along the left hairline. Twenty "bulbs" were implanted along the right hairline. Growth was evaluated and tabulated 2.5-8 months after transplant surgery. The procedure has been performed on 14 patients to date. Follow-up has been obtained on six patients ranging in age from 29 to 57 years.
RESULTS: Overall, patients exhibited 46% growth from hair "shafts" (upper portion) and 47% growth from "bulbs" (lower portion). These bisected hairs were finer in caliber (diameter) than the original donor hairs.
CONCLUSION:
Horizontally bisected donor hairs can be implanted to create finer hairlines than otherwise would be expected from the theory of donor dominance. Further study is necessary in order to evaluate long-term success and additional applications of this technique.
By the way - Dr. Kevin McElwee mentioned the same:
"So while hair multiplication [FM = Follicular Multiplication] may not be good for filling large bald areas of skin, they could be good for creating more natural hairlines."
Iron Man's CONCLUSION: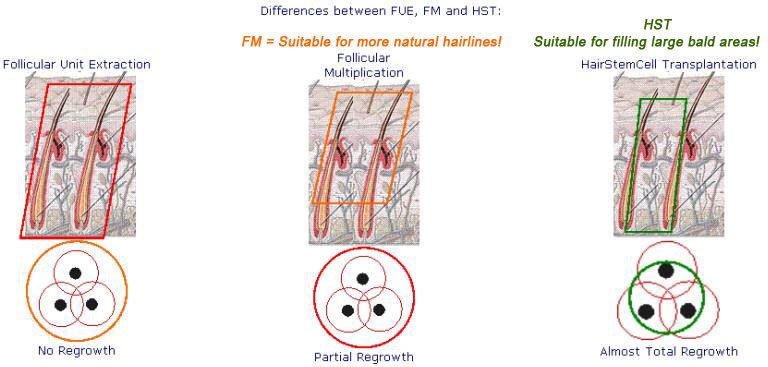 And now, the BIG question - if somebody wish to have BOTH, especially regarding "excellent and natural looking results" for hairlines as well:
WHICH Doc out there is able to perform BOTH techniques (FM & HST) AND has the most know-how and experiences with BOTH techniques?
Dr. Cole? Dr. Bisanga? Dr. Keser? Dr. X ?
In my opinion, if somebody wish to have BOTH, it's definitely Dr. Gho – at least in theory …
… and thereby you can "conserve as much donor area as possible" as well for further procedures - if you should need them in future.
---
Related articles/topics:
Why can't other Doctors do hairlines like Armani??
http://www.hairsite.com/hair-loss/board_entry-id-67511-page-0-category-2-order-last_answer-descasc-DESC.html