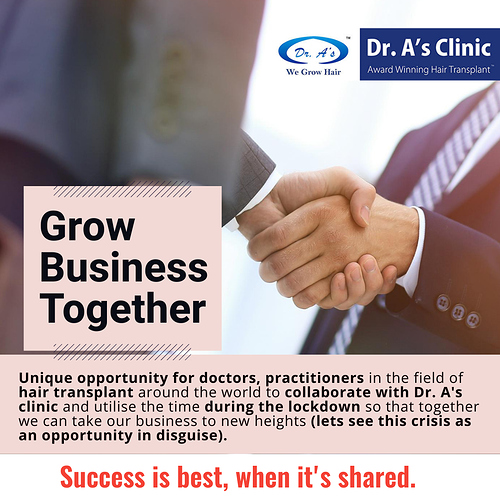 Dr. A's Hair Restoration Centre (since 1997) is widely renowned for unmatched hair transplant techniques and services which include Scalp Hair Transplant (FUHT), Body Hair Transplant (FUSE), Repair Hair Transplants, Hair transplant in Eyebrows, Burn Scars, Beard Reshaping, Hair Loss Treatment, and much more.
KNOWN FOR:-

World-renowned team of hair transplant surgeons


Natural hair transplant results


Taking up the challenges of treating impossible hair transplant repair patients


Trusted by celebrities and high profile patients


Features regularly in the media


Invented FUSE technology (Follicular Unit Separation Extraction).


Member of (ISHRS),(ESHRS),(AHRS),(AHLA),(IAHRS),(IPHA)



In these difficult times of Covid19. We are delighted to offer a unique opportunity for DOCTORS, practitioners in the field of hair transplant around the world to COLLABORATE with Dr. A's clinic and utilise the time during the lockdown so that together we can take our business to new heights (lets see this crisis as an opportunity in disguise)


For more information contact us or email us at-
Contact- 9999940478, 9871523311
Email- contact@fusehair.com
WhatsApp- 9871700606
Website- www.fusehair.com
Insta: @drasclinic
Success is best, when it's shared !!