Below are pre-op and post-op photos of a donor area that was previously harvested via strip (FUT). The post-op photo shows blue marker on the donor area as the patient was prepared for his second procedure at our clinic. Five months ago, the patient came to our clinic to have the strip scar grafted via CIT. Approximately 130 CIT grafts were placed in the scar shown below. The patient is amazed that the scar is much less visible and should have the ability to wear a shorter hair style.
Scars from strip surgery can widen over time but can usually be grafted at about 6 months after the strip procedure. Growth into scars can sometimes be difficult to achieve due to low blood supply on the scarred area. Blood supply is necessary for survival of the transplanted grafts. Typical hair transplant procedures that don't involve scar tissue typically have higher yield rates than those involving scar tissue. The correction of strip scars may require more than one session to yield the most significant cosmetic result.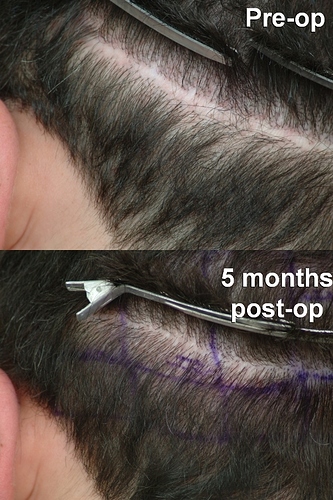 My advice is not medical advice.