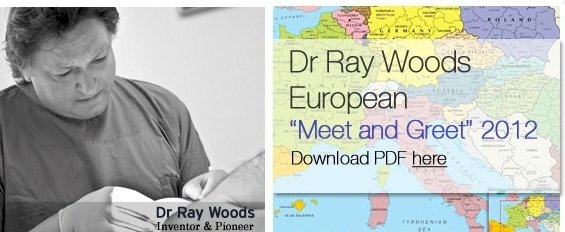 Dr Ray Woods Hair Transplant - European "Meet and Greet" 2012
Dr Ray Woods, Inventor and pioneer of FUE and BHT hair restoration techniques*, will be doing a free Meet and Greet and group consultations in Paris, Warsaw and Milan in October 2012. If you are interested in coming along to discuss the latest techniques he has developed we'd love to see you there.
Spaces are limited so please email us at info@thewoodstechnique.com to reserve your spot today!
Event dates are (tentative):
Paris 7 October 2012
Warsaw 11 October 2012
Milan 13 October 2012
Please email Wendy for more information on the venue and time. We look forward to meeting you there.
Wendy Roche
Clinical Consultant to Dr Ray Woods
info@thewoodstechnique.com
www.woodstechnique.com.au
============================
FUE stands for Follicular Unit Extraction, no knife, no scalpel, no stitches, no linear scars. Truly minimally invasive and fast healing compared to traditional hair transplant procedures. BHT stands for body-hair-to-scalp transplant, another invention from Dr. Ray Woods that has helped thousands of hair loss sufferers with depleted or limited donor follicles.
This announcement is posted on behalf of Dr. Ray Woods