Stay out of the Sun (UV rays harm hair)
As soon as summer sets in, the mind wonders about the extreme heat and the effect it has on our hair. As hair is very important for our self-confidence, hair loss or any type of hair damage is not considered good.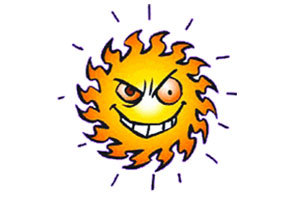 The damage caused by the sun is due to the evaporation of the natural oils. These oils take away moisture and natural shine of hair. So, it becomes dry and brittle - damaging the protein bonds and reducing the strength, shine and flexibility of the hair leading to split ends. Cutting the long tresses of hair seems the only solution. Or, regular oiling twice a week with Bringhraj oil may seem like a solution.
But stop …there is another culprit that even regular hair oiling cannot protect you from.
This unknown damaging agent lies in sunlight. Its UV rays.
Research shows that direct exposure to ultraviolet rays actually damages hair causing hair thinning and hair greying.
Hair protein degradation is induced by wavelengths of 254-400 nm of UV light. Absorption of radiation by photosensitive amino acids of the hair has adverse impact on hair proteins, especially keratin.
Melanin, a hormone produced in pituitary gland in brain imparts color to the skin and hair as well.
It can partially immobilize free radicals and block their entrance into the keratin matrix.
Melanin also absorbs and filters adverse UV radiations. Therefore, melanin is important for direct and indirect protection of hair proteins.
So, go ahead buy a cap or put your chunni on whenever you go out into the sun.
Regards,
Dr A