History:
This patient had a strip surgery that left him with a wide scar from ear to ear. He decided to have a scar excision and revision to correct it. The result was good - a thin scar. Then, the patient wanted more hairs on top, so they did another strip. This time the scar stretched back and widened. Also, there was a change in orientation of grafts. With each strip, you are increasing the chance to get wide scar. So, he sought the advice of Dr. Mwamba.
Dr. Mwamba was able to offer some new options to this patient such as correcting the directional growth of the hair and grafting into the scar.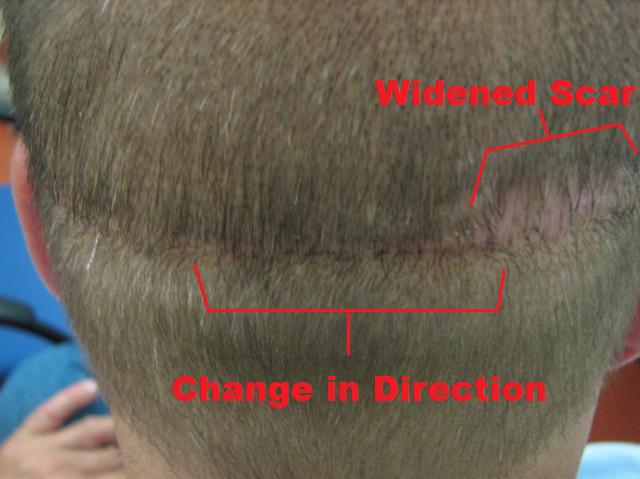 The Problem:
The scar was pretty wide from ear to ear. There was also a section in the right of the scar that had widened and stretched more than the other areas, leaving a large bald spot in that area. Another problem that many people have after strip surgery is a change in direction. The hair above and below the scar will be pulled and twisted into growing out at odd directions as the wound heals. This makes it very difficult to conceal the scar after surgery.
Goals:
Graft the scar to improve the appearance of the scar tissue and add density to the hairless areas.
Correct the change in direction by removing the hairs growing in the wrong direction and replace them in the correct orientation.
Result:
The change in direction has been corrected, allowing the hair to flow naturally, concealing the scar better.

The area of the scar that had widened and stretched may require more than one session of grafting. This is because scar tissue has much less blood flow than regular scalp tissue. Dr. Mwamba has found that the first session of grafting helps to establish blood flow to the scar tissue, preparing it for the second session of grafting. The larger the scar, the more likely it will need two or more sessions of grafting to achieve the desired result. The transplanted hair should be allowed to grow for at least 6 months in between grafting sessions for best results.
The scar tissue looks much more healthy and more similar to the surrounding scalp tissues. The hair growing in the scar tissue helps to conceal the scar even more.