Hi guys - Have been considering a transplant, and my extensive baldness means I am unlikely to have a good result without BHT.
My expectation - to be able to keep my hair buzzed down to a number 1 to 3. I just want a shadow so my head doesnt look slick bald. I do not have any ambitions of perfect hair, just more of a frame for my face and less contrast between scalp and remaining hair.
So, I saw a DOC who does FUE and BHT and here are some notes from the consulatation.
85 to 90% of FUE scalp hairs expected to grow. He est. 3000 donor hairs available for FUE method.
Only 50% of BHT units expected to grow.
BHT units in Dr experience 30% thinner than on body.
Doctor mentions that best success is from beard hair, followed by chest hair, followed by upper arm, leg hair - he does not seem to like lower leg hair, which is a shame as I have a lot.
Dr estimates of available body units: beard: 1000, chest: 1000, legs: 1500 each.
Available units means units that can be extracted without area looking too patchy.
Doctor has proposed a trial session for the body hair to test growth at a lower price per unit.
Can experienced posters or doctors address any of the points above?
Considering I want to keep buzzing my head, and considering my body hair does not appear to be much coarser than my head hair(except on beard), the hair length should not be much of an issue I am guessing. I am wondering how important direction is on a buzzed head?
Some pics:
CHEST AREA:

BEARD AREA: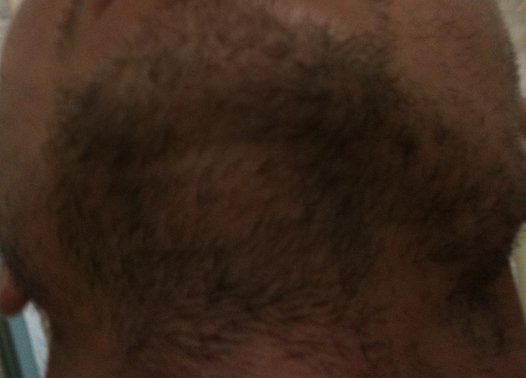 My head hair is fairly fine I guess - Would 3000 head units + 600 beard and maybe another 2000 body hair make much difference?
Though I look totally bald now, when I run my hand along my head, it does not feel bald, there are lots of blonde hairs there, but they are light coloured and finer.
And finally - Are the results posted by doctors like Dr Umar verifiable? Has anyone here actually been to check out some his cases? They look a bit too good to be true.
Why do his cases appear so much better than those of others?
thanks in Advance.
Mark