50% off Alvi Armani Origenere products for Hairsite members
Origenere is a revolutionary new hair and skin care system developed by award winning hairloss physician Dr. Antonio Armani. To find out more about Dr. Armani's products and to order please click on the link www.origenere.com
As a special thanks to all of our followers on the forums we are offering 50% off all of our Origenere products for Hairsite members only. You can email me for the details at eric@alviarmani.com or Hairsite at Hairsite@aol.com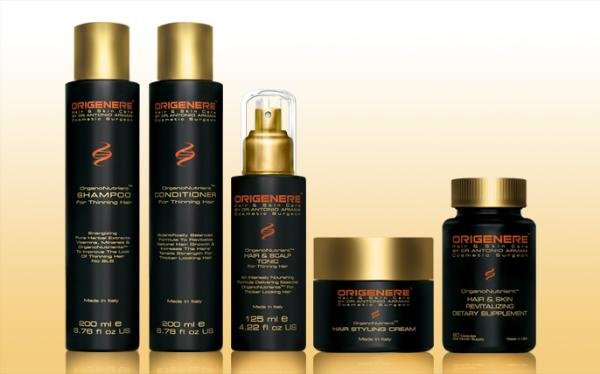 The Science
ORIGENERE™ products are designed to provide targeted skin and hair protection. Each ingredient is specially chosen to provide certain functions in each individual product.
• Essential amino and fatty acids are chosen for their cellular building capacity and improving cellular integrity
• Protective function is provided by phospholipids, polypeptides and lecithin
• Natural botanicals help in the formation of collagen and healthy blood vessels
• Exotic herbs help provide moisture, sebum regulation and DNA protective functions
• Vitamins and minerals replenish the hair and skin to nourish and rejuvenate damaged cellular structures
• Plant polyphenols help bind proteins for added strength and structure
• Superb moisture retention is provided with oleic and linoleic acids, emollients and humectants
• Saponins and flavanoids help healing and decrease inflammation
• Phenolic acids help to prevent UV damage of hair and skin
• Antioxidant activity is provided by vitamin E, vitamin C, olea europea, diterpene. phenols, omega 3, omega 6, and omega 9 fatty acids
All our products are fragrance free and color pigment free. Fragrances and coloring pigments are often the primary causes of sensitizing and allergic reactions.
Other potentially harmful, but commonly used ingredients such as parabens, sodium and ammonium lauryl and laureth sulfates, methylisothiazolinones, and hydroquinone that have been implicated as hormone disrupting and potentially carcinogenic have been eliminated from our ORIGENERE™ products.