Here is an update on a patient who recieved approx. 4800 body hair grafts via CIT from the chest and the back over an 8 day span. The patient has a very thin donor area and huge scars all over the back of his head. It was almost impossible to take grafts with a strip procedure. Because the patient could not allow us to shave a large area of his scalp we were limited to only 1000 grafts with CIT from his scalp donor area. This patient's only solution was to transplant his body hair. Fortunately, he had an abundance of hair on his back and chest. As you can see from these photos he is healing fast.
It is important to note that we have not always had good results grafting the hair line with body hair. Sometimes it seems to work quite well and sometimes it does not. It varies from one person to another. We've also seen good body hair growth in the crown with an individual, but poor body hair growth on the frontal hair line.
Based on our findings, it is best to perform a test first to see how you respond to body hair and how you perceive these results. Sometimes the growth is good, but the result is subtle and produces a limited aesthetic improvement. Some individuals will be quite pleased with this subtle improvement, while others will not. It best to see how you respond and how you perceive the results prior to having a larger procedure performed. This patient responded quite well to a high density of body hair, but not all patients have as good a response to higher density body hair. Therefore, we recommend a lower density and more passes or sessions to help improve the chance of a higher yield.
Body hair growth can also be poor in some individuals. In our experience body hair seems to almost always produce growth, but one cannot predict who will get a good result, who will be happy with their procedure, and who will get a poor result. Larger sessions can produce a poor yield in some individuals. There is still much to learn with regard to body hair transplantation.
Whenever possible you should utilize your scalp hair first and body hair as the last line of defense against hair loss.
Pre & Intermediate follow-up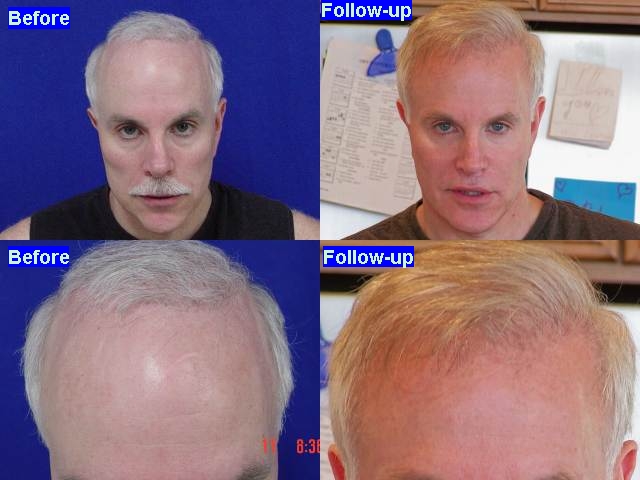 Latest follow-up from 3-4-2008